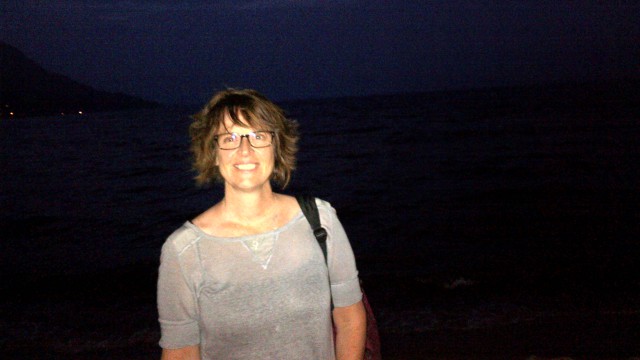 Before Now
The geography of our childhood landscapes is always with us.  I was born in Winnipeg, Manitoba and moved to Vancouver at the age of four.  I have early memories of wide open snow and prairie.
In 1968 my family moved into a bungalow my father bought on a 47′ lot in Vancouver's Point Grey neighbourhood for $18,000.  At the time, many parts of the area were wildly overgrown and ungroomed.  I have strong memories of first meeting that house and its wild garden, massive backyard cedar and fir trees and laurel hedges.  There was a general sense of being dwarfed and protected by nature, which I loved.  A few blocks away, a forest extended for a miles on the edge of a lonely road.  Along Crown Street, huge boulevard trees took charge of the everyday walk to school.  The school itself was bordered by the forest. It seemed one was always in some kind of consultation with the trees.
The vertical subject matter of my paintings I believe comes from childhood hours spent at the kitchen window drawing through, above and around trees which opened to a broad view of the north shore mountains and the growing (vertical) city downtown.
Both my paintings and fiction have considered trees as subject matter ("You are Mine," Queen's Quarterly 100:3) or as back story ("In Hiding" Canadian Author & Bookman, Spring 1994).
My work is held in private collections in Canada and the U.S. with my largest painting hanging at VGH/UBC Hospital. Over the last ten years I've donated paintings to fundraising initiatives with all proceeds going to these organizations: The Arts Club Theatre, Yaletown House (a oomplex-care facility), Vancouver Friends for Life Society, UBC Thunderbirds Athletics, and VGH/UBC Hospitals.
Awards
Award of Excellence, Federation of Canadian Artists (February, 2008)
Award of Merit, Delta Arts Council (April, 2007)
2nd Prize, North Vancouver Arts Council (January, 2007)